As we've just added details of Travel Industry Discounts for IHG, we thought it may be pertinent to offer a trip report of one of their hotels we recently took advantage of a great rate at – the Holiday Inn Brussels–Schuman.
Brussels was not necessarily a destination of choice, more a case that a spare non-working weekend popped up, so thought it would be good to test some of the offers out there.
However, with last minute Eurostar spaces non-existent it came down to finding any destination that had availability using some spare Avios (or the newish term for BA Airmiles). Having recently visited Paris and Amsterdam, the two other options with plenty of availability a promise of frites and beer had us booking up Belgium's capital. And despite warnings of impending tedium – it turned out to be a fantastic stay memorable of course for the copious frites and frambois beer.
Anyway, with flights booked, and Brussels being primarily a business hub, there were no shortage of last minute industry discounted hotels. However, we plumped for the Holiday Inn Brussels – Schuman – for easy access to the metro, and so it would be re-assuredly quiet over the weekend being in the 'EU District' – and with a lovely range of local bars and restaurants nearby.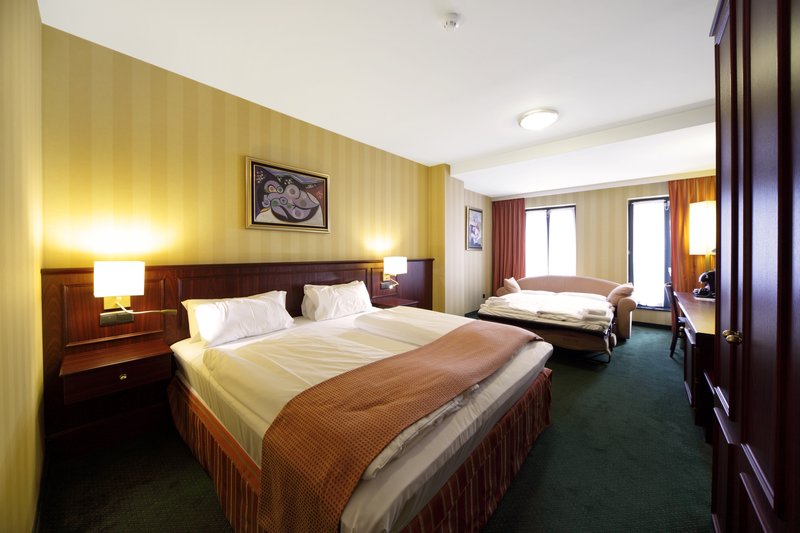 A large family room identical to the room we had (without the mess!)
Industry rates rarely include breakfast (which would have been an outrageous E15 a night each), but for the rooms rates were 30% off the best available rates (we paid €60 a night) – for a lovely, large and newly renovated room. The hotel lift wasn't working for renovation (we're been prepared having seen a couple of recent Trip Advisor reviews) – but we were on the 1st floor so happy with this.
The area was *deathly* quiet at the weekend, but that was ideal – you could be in the centre of town in under 20 minutes, and yet it was a short stroll to the Cinquantenaire for a lovely Sunday morning walk.
Heartily recommend – especially seeing as outside of EU summits there seem to be consistent availability of industry rates.
Link: IHG Agent Website
Details: Once registered there is a separate Travel Industry part of the website where you can easily check available industry rates
Book by: Ongoing
Eligibility:Very strictly Travel Industry Only rates – proof of employment (business card, or letter on your company letterhead) required, and this is normally checked.
Ease of use: Once you've gone through the process of registering it's very simple.